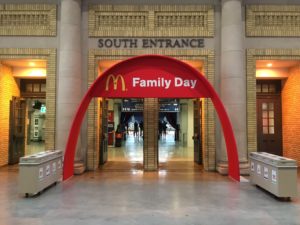 Exhibit Fabric Trends 2018 and Beyond Part 1
One of the keys to the success and longevity of professional companies is their willingness to constantly uncover and analyze new industry trends. McRae takes the design concept and creates these exhibit structures in the most structurally sound, and cost efficient way.   The same logic applies to exhibitors: If you're planning an upcoming trade show appearance, keeping current with trade show trends is a great way to make sure your display doesn't get overlooked by audiences searching for the next new thing. While the best design tactics for your exhibit will vary depending on your product or service, your industry, and your show goals, exploring this year's notable trends may give you some ideas as to what might give a boost to your trade show strategy.
Obviously, we are a little bias with some of the materials such as fabric (why fabric) but there are some valid reasons why…including be good to our planet.
Here are some of the key fabric trends to consider for next year:
Fabrics – High End and Softer Overall look – Comfy is still in.
Counter to the tradeshow exhibitors' wanting the latest and best technology using fabrics in unconventional ways from projection to shapes, to large scale graphics and digital integration can make a huge impact.   Covering the walls or integrating with digital screens can give the booths a softer more tactile look and feel which helps visitors feel right at home and comfortable in the middle of a crowded and bustling tradeshow floor. Fabric is also easily backlit to create a mood that helps your company stand out from exhibit hall surroundings.
Fabrics – Being Green and Finding Partners who Value Sustainability
We're talking green building on a micro-level. If your company touts any kind of sustainable or eco-friendly processes or initiatives, carry that ethic over into your exhibit design.  We hope this trend never goes away.  Our fabrics are completely recyclable.  We use water-based dyes.  We take being green very seriously at McRae.  See our client recycling program to help our clients recycle their fabrics when challenged operationally to do it.
Fabric Eye-Catching Light Projections 
Projection is big right now and the technology for it is becoming more affordable.  Projection can use a wide variety of surfaces (fabrics is our favorite) and material types may be used as screens in all different shapes and sizes.  If you want to create an immersive visual environment and set the mood when presenting your brand, projections on to fabric are a great way to do it.  We have some proprietary fabrics that will make your light projections come to life.  The other great thing by using the fabric is that it is easily transportable and install.
Fabric Lighting Movement.  Our fabrics are designed to be able to disperse light which allow our lighting technology to change colors and movement.  This can provide some sophisticated effects that will really draw your customer in.  Everyone has a TV screen in their house but when they come to the show if they can experience an effect that they cannot experience elsewhere it will be memorable.
Acoustic Fabric – A Sensory Sound Experience
Many companies realize a trade show environment is just that—an environment— and it is important to treat it as such.  Imagine being able to have your meeting rooms or booths be able to absorb the sounds from the tradeshow floor.  You could give your visitors an oasis and break from all the buzz.  You literally would be able to tell the difference when they walked into your booth.  You can print on them so they are visually appealing, you can make them any shape and they will dampen the buzz around so you can have those deal closing conversations on the floor.  The acoustic absorption fabrics are now available at McRae.
Fabric and Digital Integration
Digital Screens and Videos can engage and inform the attendee on the floor in many interactive ways.  Wrapping fabric behind these screens can provide seamless (flat wall) modern design.  It can also provide stationary messaging if the person does not stop but catches a key static message.  The luxury look of the fabric can also soften the screens as mentioned above to provide a high-end home overall look.
Please call McRae at 905.569.1605 or email us at marketing@mcraeimaging.com to get information on our projection fabrics, inventively fabricated structures and custom lighting solutions.