McRae transforms retail, events and tradeshow environments creating a customer experience that promotes sales growth. McRae manufactures, researches, secures and invests in superior pPE supplies to provide for our customers.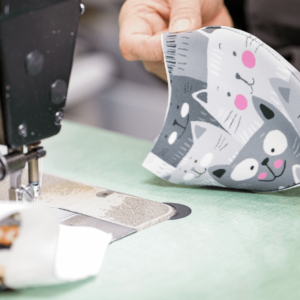 McRae continues its rich history of fabric innovation in partnership with Next Generation Manufacturing Canada (NGen), the industry-led organization behind Canada's Advanced Manufacturing Supercluster.
For over two decades McRae has been a global leader in fabric innovation and this history of expertise gave McRae the ability to successfully pivot to the development and manufacturing of PPE at the beginning of the COVID-19 pandemic. This critical pivot not only provided desperately needed PPE but kept McRae's team of loyal employees working providing an economic benefit for the GTA business community.
"I am pleased and honored that NGen has chosen McRae as a first-round winner of its strategic supply challenge. The NGen organization shares the same values as McRae in its commitment to advanced manufacturing technologies to supply cost competitive critical products that can be used in Canada's fight against COVID-19 and beyond. This approach builds sustainable made-in-Canada products from companies like McRae that support the Canadian economy on a long-term basis." said Bob Murray CEO of McRae.