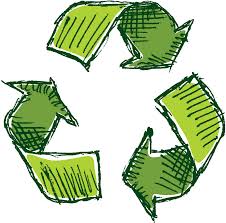 Being Green: Our Client Fabric Recycling Program
Most people try to recycle when they can for our planet – folks take their fabric shopping bags to the grocery store, put our can in the right spot at the restaurant, many of us use the green bin at home.  However, sometime reality hits and it can be difficult to recycle items just due to the location or lack of program/system.  We heard this from our clients so we created a in-store fabric recycling program. If you are looking for brilliant imagery to help market your business, and have an accountable environmental partner, then you have come to the right place.  We take being green very seriously – for example we purposely ONLY print on fabrics using dye sublimation process that uses water-based inks. True Fact: the most waste at our company is employee's lunches. (We are working on this one too!)
We want our clients to join us.  Our clients who are involved in our client fabric recycling program can return their old fabrics and displays.  We will take care of the rest using our normal recycling process channels. Each client gets an authenticity certificate stating the fabric's journey showing how it is reused in the marketplace.
Program Highlights include:
Simple No Hassle Program that gives back to our planet.
Recycling Program Shipping Label information is sent with the original package for simple, convenient way to send back the old fabrics.
Recycling authenticity letter is sent to explain how the fabric is recycled back into the market.
Clients using this program can be featured via customer spotlights, blog posts and social media.
Here at McRae Imaging, our commitment to our customers and colleagues, and our connection to our environment, informs every decision we make. We recycle, reuse and repurpose all of our materials, and we are committed to conserving energy and resources.
We manufacture everything in house which allows us to have full control over how our products are made from raw materials to shipping out. One Source. One Responsibility.  We purposely ONLY print on fabrics using dye sublimation process that uses water-based inks.
Please consider becoming one of our client fabric recycling program.  For more information, contact your sales rep at 905.569.1605 or you want to learn more about our client fabric recycling program contact marketing@mcraeimaging.com